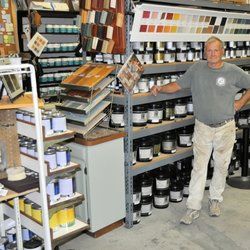 Faux marquetry stenciled design with a cement overlay countertop. 
Old dingy dark cabinet refreshed with milk paint and oil wax. 
We host workshops for room transformations and furniture/cabinet makeovers. Samples on hand
the VP&P STUDIO stocks the products used by the design and decorating industry and teaches workshops that bring rooms, kitchen cabinets and outdated and blemished furniture into current trends. the FURNITURE REFORM SCHOOL is where home owners will learn how to imitate the high end and pricey furnishings from the likes of Joanna Gaines', Magnolia Market or Restoration Hardware. See samples displayed of my matches. Visit soon for more product information and see my portfolios of my work and take a class.
We are not only a paint store---We sell used furniture needing a 2nd CHANCE so that it will fit your home décor. I rescue, salvage and make over discarded items that create custom design décor items for you too.